Cosmetics Manufacturing License Consultant in India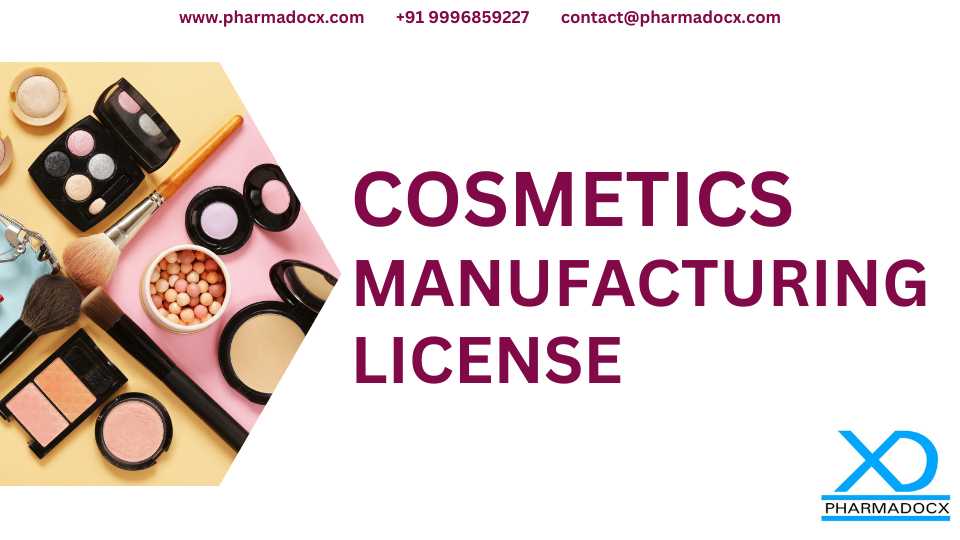 Introduction to Cosmetics Manufacturing in India
India's cosmetics market has witnessed exponential growth over the past few years. With a diverse population and evolving beauty standards, there's a rising demand for a variety of cosmetic products. However, to maintain product quality and ensure consumer safety, it's vital for manufacturers to obtain a Cosmetics Manufacturing License.
Regulatory Authority: State Food and Drug Administration (FDA)
The State FDA plays a pivotal role in overseeing the cosmetics industry in India. It operates under Cosmetics Rules, 2020, ensuring that all cosmetic products manufactured and sold in the country adhere to the highest safety and quality standards.
Role of State FDA: As the chief regulatory body, the State Food and Drug Administration (FDA) sets guidelines, conducts inspections, and ensures manufacturers comply with the stipulated norms.
Cosmetics Rules, 2020: This foundational act lays down the standards for cosmetics, ensuring that products are safe for consumer use and free from harmful ingredients.
Licensing and Approval: State FDA is responsible for granting licenses to cosmetics manufacturers, ensuring they adhere to the necessary guidelines and standards.
Monitoring and Surveillance: State FDA actively monitors the market, ensuring that all cosmetic products sold are of the highest quality and free from harmful substances.
Looking for setup Cosmetics Factory?
Contact us today to start your journey in the world of Cosmetics!
Cosmetics Manufacturing License Overview
Document Required for the Registration Process:
Aadhaar Card of Owner
Partnership deed/MOA AOA
Rent Agreement or Registry or Conveyance Deed
Chemist Documents
List of Products
Layout
Trademark
Fire NOC
Pollution NOC.
Basic Requirements
The basic requirements for obtaining a cosmetics manufacturing license are pivotal to ensuring product quality and safety. Firstly, a well-maintained manufacturing facility is essential, ensuring a hygienic environment free from contaminants. This facility should be equipped with modern machinery and tools to facilitate efficient production. Secondly, having trained staff is crucial. These individuals should possess the necessary skills and knowledge to handle equipment, understand formulations, and ensure product consistency. Lastly, adherence to Good Manufacturing Practices (GMP) is non-negotiable. GMP guidelines ensure that products are consistently produced and controlled according to quality standards, safeguarding consumer health and maintaining product integrity.
Step-by-Step Process to Obtain the Cosmetics Manufacturing License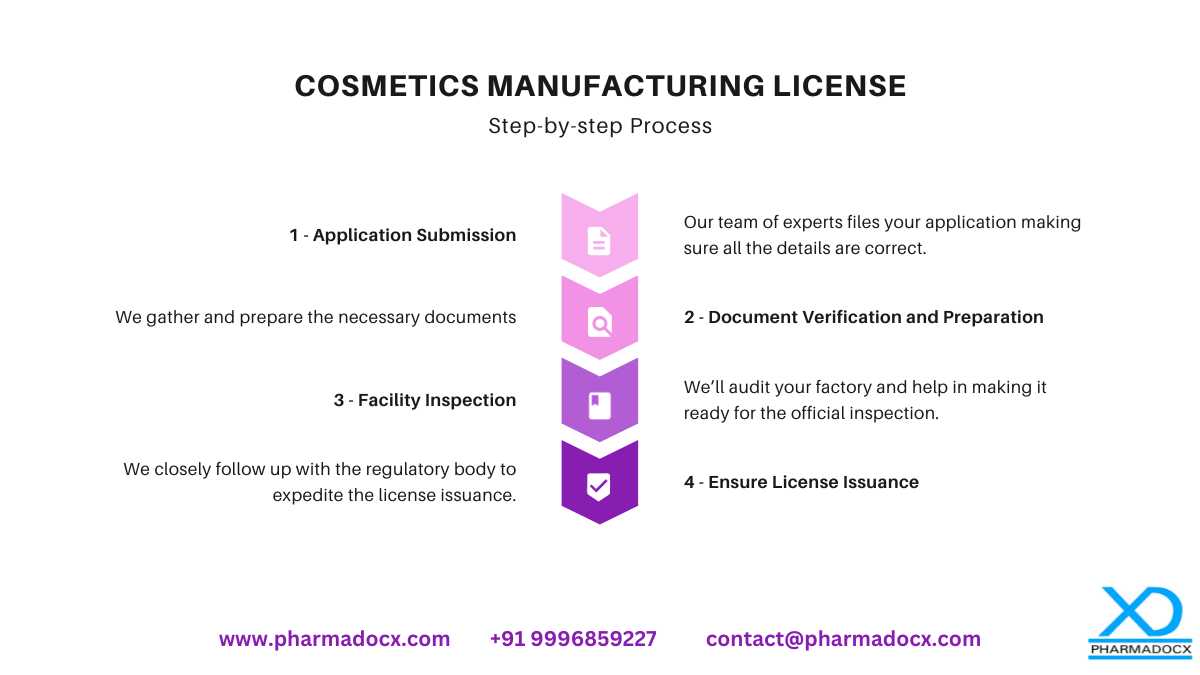 Step 1 – Application Submission on Your Behalf
At Pharmadocx Consultants, we'll initiate the process by meticulously preparing and submitting the application to the relevant authority for you. With our vast experience, we ensure that all details, from business specifics to the types of cosmetics you intend to manufacture, are accurately presented.
Step 2 – Document Verification and Preparation
Our team will not only help you gather the necessary documents but will also review them to ensure they meet the regulatory standards. With over 100 cosmetics factories set up in India and abroad, we know the intricacies of document requirements like the back of our hand.
Step 3 – Facilitating Facility Inspection
Leveraging our deep-rooted industry connections, we'll coordinate and prepare your facility for the official inspection. Our technical consultation, which includes layout creation and machinery sourcing, ensures your manufacturing unit stands up to the highest standards.
Step 4 – Ensuring License Issuance
Once the inspection is successful, we'll closely follow up with the regulatory body to expedite the license issuance process. Our commitment doesn't just stop at getting you the manufacturing license; we also provide regulatory services for facilitating the Import License for Cosmetics from CDSCO, ensuring you have a holistic solution.
Why Choose Pharmadocx Consultants for Cosmetics Manufacturing License Needs?
Cosmetics Factories Setup
Expertise in Cosmetics Rules Regulations: Our team is well-versed in the nuances of Cosmetics Rules, 2020 guidelines, ensuring a smooth licensing process.
End-to-End Assistance: From the initial application to license approval, we offer comprehensive support, ensuring no detail is overlooked.
Time-Efficient Processes: Benefit from our streamlined processes that ensure swift license acquisition.
Document Preparation and Review: We assist in preparing essential documents and ensure they meet Cosmetic Rules, 2020 requirements.
Regular Updates: The waiting period can be stressful. We provide regular updates on the status of your application, ensuring you're always in the loop.
Post-License Support: Our relationship doesn't end with the license approval. We offer post-license support, assisting with renewals and any regulatory changes that might affect your business.
Cost-Effective Solutions: Quality doesn't always have to come at a high price. Our competitive pricing ensures you get the best services without burning a hole in your pocket.
Client-Centric Approach: At Pharmadocx Consultants, our clients are our top priority. We tailor our services to meet your specific needs, ensuring a personalized experience.
Ready to establish a thriving cosmetics manufacturing factory in India? Don't navigate the complexities of obtaining a cosmetics manufacturing license alone. Trust in Pharmadocx Consultants, the industry leader since 2007. 🌟 Contact us now and let's turn your cosmetics business vision into a licensed reality!
Call us at 9996859227 or write to us at [email protected]
We'd love to hear from you! Whether you have questions about our pharmaceutical plant setup consultation services or want to discuss a potential project, our team is here to help. Simply fill out the form below, and we'll get back to you as soon as possible. Alternatively, you can reach out to us directly using the phone number or email address listed on this page. We look forward to connecting with you!
Address
Sonipat Office - Opposite Dewan Mill, Old D.C. Road Sonepat - 131001 Haryana, India

Delhi Office - G-12, Pearls Best Heights-I, Netaji Subhash Place, Delhi, 110034
Frequently Asked Questions (FAQs)
What is the validity period of the cosmetics manufacturing license in India?
The Cosmetics Manufacturing License has perpetual validity but a fee of Rs. 10,000/- has to be paid every 5 years.
Can foreign companies apply for a cosmetics manufacturing license in India?
Yes, foreign companies can apply, but they need to appoint an authorized agent or representative in India.
What are the penalties for manufacturing without a cosmetics manufacturing license in India?
Manufacturing without a valid license can lead to hefty fines, imprisonment for one year, other legal actions, and even a business shutdown.
How much space is required to setup Cosmetics Factory?
An area between 1,500 sq ft to 150000 sq ft depending on capacity, batch sizes, and sections planned is required to set up a cosmetics factory.
What is the minimum cost of setting up cosmetics manufacturing plant?
You can setup a basic cosmetics factory in 1.5 Crore Rupees.
What is the qualification requirement of Technical Staff for Cosmetic License?
What is the fees for Cosmetics Manufacturing License?
Fees for a license are Rs. 10,000/- for 10 products + Rs. 500/- for each  extra product.
What are the documents required for Obtaining Cosmetics Manufacturing License?
Aadhaar Card of Owner, Partnership deed/MOA AOA, Rent Agreement or Registry or Conveyance Deed, Chemist Documents, List of Products, Layout, Trademark, Fire NOC & Pollution NOC