Quality Management System (QMS) in Pharmaceuticals
What is QMS in Pharmaceuticals?
Quality Management System (QMS) in the pharmaceutical industry refers to a structured system of procedures, processes, and practices that pharmaceutical companies use to ensure the quality, safety, and efficacy of their products. It encompasses everything from the initial acquisition of raw materials to the production, distribution, and post-market surveillance of the drugs.
The essence of a QMS revolves around a continuous cycle of improvement and reassessment, which is integral to the dynamic and highly regulated pharmaceutical landscape. It involves various components such as Good Manufacturing Practices (GMP), documentation, risk management, and, importantly, Corrective Actions and Preventive Actions (CAPA). In essence, a QMS is not just about compliance; it's a tool that fosters excellence, transparency, and accountability, driving the production of high-quality pharmaceuticals.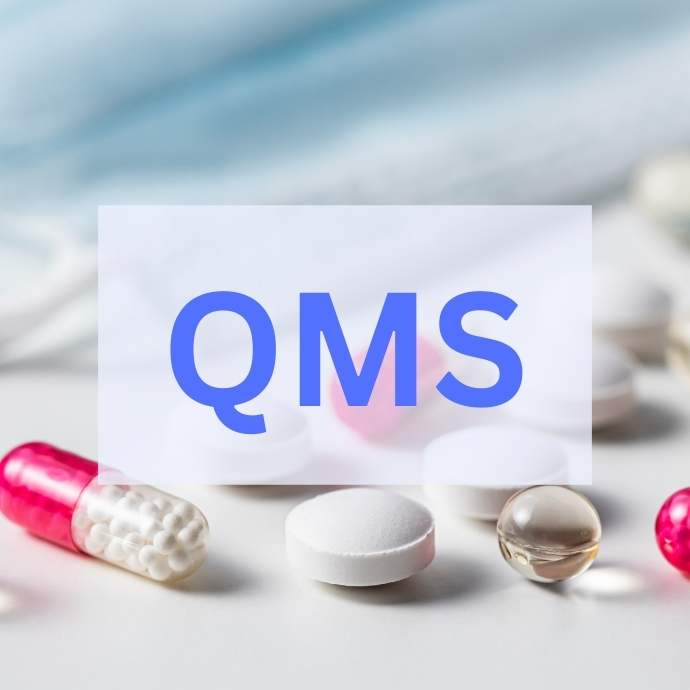 Key components of QMS in Pharmaceuticals
Good Manufacturing Practices (GMP)
GMPs provide a detailed roadmap for maintaining quality in drug production. These crucial guidelines dictate how manufacturers should handle materials, equipment, and production, ensuring consistent output quality. Adhering to GMPs isn't just about meeting legal requirements; it's about safeguarding consumer health by producing pharmaceuticals that are safe, effective, and reliable.
Quality Control (QC) and Quality Assurance (QA)
QC is the practice of checking product quality at various stages, ensuring it meets specified criteria. QA, however, encompasses the entire drug creation process, preemptively addressing potential issues to avoid defects in the final product. Together, they form a comprehensive approach to guaranteeing that the end product is safe for consumer use.
Internal Audits
Internal audits are self-conducted inspections that ensure all operational aspects align with industry standards. These regular checks help identify shortcomings or deviations in the system, allowing for timely corrections. They're instrumental in fostering continuous improvement, ensuring standards are upheld, and preparing for external regulatory inspections.
Staff Training and Competency
Highly trained staff are crucial in maintaining pharmaceutical quality. Regular training programs ensure that employees stay updated on industry standards and best practices. This continuous learning culture helps prevent operational errors, ensuring the workforce is competent, confident, and efficient in handling sophisticated pharmaceutical production processes.
Documentation Control
Proper documentation is the backbone of quality assurance, requiring meticulous record-keeping for every production stage. From the way raw materials are handled to the final packaging process, every detail must be documented. This rigorous approach ensures traceability, facilitates audits, and is indispensable in verifying product quality and safety standards compliance.
Risk Management
Risk management in pharmaceuticals involves identifying potential production hazards and taking steps to mitigate them. This proactive approach helps prevent quality compromise that could affect consumer safety and a company's reputation. It's a continuous process that requires regular review to adapt to new threats, ensuring ongoing compliance and product reliability.
Corrective and Preventive Actions (CAPA)
CAPA is a two-pronged approach: corrective actions address current issues, while preventive actions ensure they don't recur. This system is fundamental in pharmaceutical manufacturing, where the stakes for any quality lapse are high. It involves systematic investigation, action, and review to prevent product quality compromise and guarantee consumer safety.
Equipment and Facility Management
The state of production facilities directly impacts product quality. This component ensures equipment is up-to-date, facilities are sanitized, and environmental conditions controlled. Regular maintenance, calibration, and sanitation reduce contamination risks and equipment failure, playing a crucial role in uninterrupted, quality-assured production.
We'd love to hear from you! Whether you have questions about our pharmaceutical plant setup consultation services or want to discuss a potential project, our team is here to help. Simply fill out the form below, and we'll get back to you as soon as possible. Alternatively, you can reach out to us directly using the phone number or email address listed on this page. We look forward to connecting with you!
Address
Sonipat Office - Opposite Dewan Mill, Old D.C. Road Sonepat - 131001 Haryana, India

Delhi Office - G-12, Pearls Best Heights-I, Netaji Subhash Place, Delhi, 110034
List of Applicable Standards and Regulations for QMS in Pharmaceuticals
The pharmaceutical industry follows a series of globally recognized standards. These standards guide the establishment and functioning of Quality Management Systems (QMS) to ensure that products are safe, reliable, and of the highest quality. Here are some of the key industry standards that pharmaceutical companies often integrate into their QMS frameworks:
1. ISO 9001:2015 – Quality Management Systems
Overview: ISO 9001:2015 sets the stage for a quality culture. It's a universal guide that helps businesses of any size maintain reliable and efficient processes. In the pharmaceutical context, this standard ensures companies meet regulatory requirements and handle all aspects of production with the highest quality controls.
Key Features:

Customer Focus: Ensures products meet customer and regulatory requirements.
Leadership: Sets clear directions and engagement rules for company leaders.
Continuous Improvement: Encourages regular evaluation and improvement of processes.
Decision Making: Advocates for data-driven decisions, enhancing efficiency and productivity.
2. ICH Q10 – Pharmaceutical Quality System
Overview: ICH Q10 is the pharmaceutical industry's dedicated guide for ensuring medicine quality. It emphasizes a systematic approach to guaranteeing product safety, effectiveness, and reliability, crucial for gaining market trust and regulatory compliance.
Key Features:

Lifecycle Approach: Monitors the entire process from drug development to distribution.
Process Performance: Keeps tabs on operations to ensure quality outcomes.
Continual Improvement: Prioritizes regular updates and advancements in systems and processes.
Risk Management: Identifies and controls potential risks to maintain product integrity.
3. Current Good Manufacturing Practice (cGMP)
Overview: cGMP represents the gold standard in manufacturing controls for pharmaceuticals, ensuring medicinal products' purity, strength, and quality. It mandates that manufacturers adequately control their operations, resulting in consistent and high-quality outcomes for all batches.
Key Features:

Quality Control: Enforces regular testing and quality checks.
Proper Documentation: Requires detailed records of all procedures and operations.
Facility Conditions: Sets standards for the cleanliness and functionality of production spaces.
Personnel Qualifications: Ensures staff are adequately trained and competent.
4. FDA 21 CFR Part 210
Overview: FDA 21 CFR Part 210 regulation lays the groundwork for manufacturing practices in the pharmaceutical industry. It establishes the U.S. FDA's baseline requirements for the methods, facilities, and controls used in manufacturing, processing, and packing drugs.
Key Features:

General Provisions: Outlines the scope and applicability of current good manufacturing practices.
cGMP Requirements: Sets the foundation for the detailed criteria found in subsequent parts, ensuring consistency and compliance.
5. FDA 21 CFR Part 211
Overview: FDA 21 CFR Part 211 builds on the foundations set by Part 210, offering a more detailed guideline on implementing cGMPs. It covers in-depth quality control, personnel roles, and documentation, crucial for maintaining high standards in drug safety and effectiveness.
Key Features:

Comprehensive Regulations: Provides extensive rules for manufacturing, quality control, and distribution.
Product Testing: Stipulates rigorous testing requirements to ensure drug batch uniformity and integrity.
Recordkeeping: Mandates detailed documentation for every stage of production.
6. 21 CFR Part 11
Overview: In an era where digital records are fundamental, 21 CFR Part 11 regulates electronic records and signatures' reliability and security. This regulation ensures that digital data is as trustworthy as traditional paper records, critical for accuracy and traceability in quality management systems.
Key Features:

Electronic Records: Sets criteria for creating, modifying, maintaining, and transmitting electronic records.
Electronic Signatures: Establishes standards for electronic signature reliability and equivalence to handwritten signatures.
Data Security: Requires measures to protect electronic data integrity and confidentiality.
7. Pharmaceutical Inspection Co-operation Scheme (PIC/S)
Overview: The Pharmaceutical Inspection Co-operation Scheme (PIC/S) is an international program that brings together worldwide regulatory authorities to standardize and improve health and safety standards in drug manufacturing.
Key Features:

Standardization of Inspection Procedures –

PIC/S is instrumental in creating a uniform inspection standard across the globe, ensuring that all member countries are aligned in their practices.

International Collaboration and Training –

Under PIC/S, countries and regulatory authorities collaborate, sharing knowledge, and best practices.
Frequently Asked Questions (FAQs)
What is a Quality Management System (QMS) in pharmaceuticals?
A QMS in pharmaceuticals is a structured system of procedures and processes used to ensure the consistency, safety, and quality of drug products. It encompasses all aspects of drug production, from raw material procurement to manufacturing, packaging, and distribution, ensuring compliance with global regulatory standards.
Why is a QMS important in the pharmaceutical industry?
A QMS is crucial because it ensures that pharmaceutical products are consistently produced according to strict standards, ensuring their safety and efficacy for consumers. By adhering to a QMS, pharmaceutical companies can reduce errors, minimize risks, ensure product quality, and maintain their reputation and consumer trust.
What are the components of a QMS in pharmaceuticals?
Key components include Good Manufacturing Practices (GMP), documentation control, risk management, internal audits, corrective and preventive actions (CAPA), supplier quality assurance, and continuous improvement processes.
Are pharmaceutical companies required to follow QMS regulations?
Yes, compliance with QMS regulations is mandatory for pharmaceutical companies. Regulatory bodies worldwide, like the FDA and EMA, require adherence to these systems to ensure pharmaceutical products' safety, efficacy, and quality. Non-compliance can lead to penalties, product recalls, and loss of market approval.
How often should a pharmaceutical QMS be updated?
A pharmaceutical QMS should be a dynamic system, regularly reviewed, and updated to adapt to new technological advancements, regulatory changes, and internal process improvements. Companies often conduct annual reviews, but updates might occur more frequently in response to incidents like product deviations or following regulatory inspections.
What is ISO 9001:2015?
ISO 9001:2015 is an international standard that specifies requirements for a quality management system (QMS). Organizations use the standard to demonstrate their ability to consistently provide products and services that meet customer and regulatory requirements. It is based on several quality management principles, including a strong customer focus, the motivation and implication of top management, the process approach, and continual improvement.
What is ICH Q10 in Pharmaceuticals?
ICH Q10 is a document endorsed by the International Council for Harmonisation (ICH), providing a model for an effective pharmaceutical quality system that goes beyond the basic requirements of Good Manufacturing Practice (GMP). It's designed to promote innovation and continual improvement and strengthen the link between pharmaceutical development and manufacturing activities.
What is FDA 21 CFR Part 210?
FDA 21 CFR Part 210 deals with the general manufacturing processes for drugs. These regulations set the cGMP for methods to be used in, and the facilities or controls to be used for, the manufacture, processing, packing, or holding of a drug to ensure that it meets the requirements of the act as to safety, and has the identity and strength, and meets the quality and purity characteristics that it purports or is represented to possess.