CDSCO MD5 License for Class A and B Medical Devices Manufacturing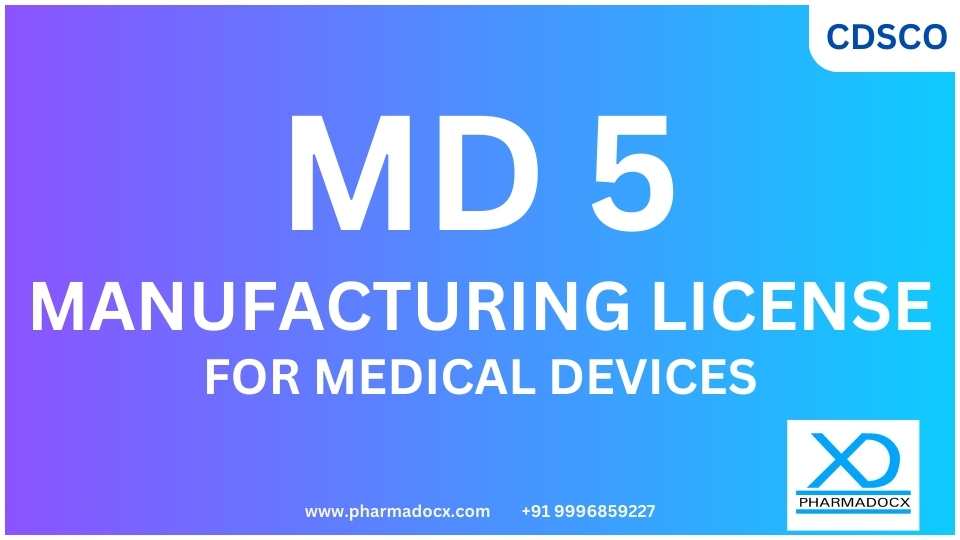 Pharmadocx provides services for the grant of manufacturing license from CDSCO for Class A and B Medical Devices on form MD 5. We guide you from the beginning of file submission till the grant of the license. Following are the services we provide for a license on form MD 5
Application for Manufacturing License on form MD 5 for Class A and B Medical Devices from CDSCO
An application to manufacture Class A and Class B medical devices has to be made on the online CDSCO Portal for Grant of License on form MD 5. Pharmadocx can help you submit the online application on the CDSCO portal for Class A and Class B Medical Devices.
The list of Documents Required for submitting the above application can be downloaded using this link. You can visit the downloads section on our website.
We will prepare the documents which are required to be submitted on the Online Portal for medical devices. These documents will help you in getting permission from State Licensing Authority.
Quality Management System Implementation for CDSCO License on MD 5
QMS is the most vital part of manufacturing medical devices. mainly 2 standards are followed for the quality management system.
Quality Management System as per ISO 13485:2016
ISO 13485 is an international standard that sets out requirements for a quality management system (QMS) in the medical device industry. It is designed to ensure that medical devices are consistently manufactured and controlled to meet the needs of customers and regulatory requirements.
Already having an ISO 13485 eases the process of obtaining a license to manufacture Class A and B medical devices. The standard covers all aspects of the product lifecycle, from design and development to production, installation, and servicing. It also includes requirements for risk management, documentation, traceability, and validation.
ISO 13485 is intended to provide a framework for medical device manufacturers to develop and implement a QMS that is effective in ensuring the safety and performance of their products. It is also intended to help companies meet regulatory requirements in different markets around the world.
Compliance with ISO 13485 is voluntary however, It is a regulatory requirement to obtain an ISO 13485:2016 Certificate from a NABCB accredited body. A list of NABCB-accredited bodies for the scope of ISO 13485 can be viewed here.
Quality Management System as Per Medical Device Rules, 2017
The quality management system has also been defined in Schedule V of the Medical Device Rules, 2017 as released by CDSCO. The requirements of the Quality Management system as per Schedule V and ISO 13485:2016 are almost similar. The difference comes in clause numbers and specific requirements for sterile and implantable medical devices.
The audit which is conducted prior to the grant of license to manufacture Class A and B medical devices is conducted for evaluation of the quality management system as per Medical Device Rules, 2017.
Pharmadocx can help you in the preparation of a good Quality Management System for compliance with both ISO 13485:2016 requirements and Medical Device Rules, 2017.
Technical Document Writing
Writing technical documents in line with the requirements of both Indian Standards and international standards plays a very critical part in achieving a license on Form MD 5 for Class B and A products. there are numerous technical documents that need to be prepared for both your plant (site) and each medical device.
Pharmadocx will guide you in the preparation of the following documents.
Device Master Files as Per MDR, 2017 CDSCO
Medical Device Master Files (DMF) are confidential documents that contain information related to the design, manufacturing, and functionality of medical devices. They are maintained by manufacturers or distributors of medical devices and can be submitted to regulatory authorities such as the US Food and Drug Administration (FDA) to provide information about the safety and effectiveness of a medical device.
The purpose of a DMF is to allow a manufacturer to provide information to regulatory authorities without disclosing confidential information to third parties. The DMF can be referenced by other manufacturers seeking approval for a similar device, and it can help streamline the regulatory approval process for the manufacturer who holds the DMF.
A DMF typically contains information about the design and composition of the medical device, the materials used in manufacturing, and the manufacturing process itself. It may also include data on the device's performance, clinical studies, and adverse event reports.
If you are a manufacturer or distributor of medical devices, having a Medical Device Master File (DMF) can provide significant benefits in the regulatory approval process.
Benefits of Device Master File
Streamline the regulatory approval process: By submitting a DMF to regulatory authorities, you can provide important information about your device without disclosing confidential information to third parties. This can help expedite the approval process, as regulatory authorities can reference your MAF when evaluating other devices with similar characteristics.
Protect proprietary information: A DMF allows you to provide the necessary information to regulatory authorities while protecting proprietary information. This can be particularly important for companies that want to maintain a competitive advantage by keeping their manufacturing processes confidential.
Improve market access: In some cases, regulatory authorities may require a MAF as part of the approval process for certain medical devices. Having a DMF in place can help ensure that your device meets the necessary regulatory requirements, which can improve your chances of gaining market access.
Facilitate international sales: If you plan to sell your device in multiple countries, having a DMF can be particularly helpful. Many regulatory authorities around the world recognize DMFsas a valuable tool in the regulatory approval process, which can help streamline approvals in multiple countries.
Pharmadocx has wide experience in the preparation of Device Master Files, to ensure conformity to the Medical Device Rules, 2017 and ISO 13485:2016. You can purchase Device Master Files for various devices from our website's Documents Section. Click here. You can also watch Youtube Videos on the topic on our youtube channel.
Plant Master File as per MDR, 2017 CDSCO
A Plant Master File (PMF) is a comprehensive document that provides detailed information about a medical device manufacturing facility. It is typically created by the manufacturer or distributor of a Medical Device, and it serves as a valuable resource for regulatory authorities such as the US Food and Drug Administration (FDA) when evaluating the safety, quality, and efficacy of a drug product.
The PMF contains detailed information about the manufacturing process, including the facilities, equipment, and personnel involved. It also includes information about the quality control systems in place, such as testing methods, specifications, and procedures for handling deviations and non-conformities.
The purpose of a PMF is to provide a comprehensive overview of a manufacturing facility's operations and quality control systems, which can help regulatory authorities evaluate the safety, quality, and efficacy of drug products produced at the facility. By providing this information in a standardized format, a PMF can help streamline the regulatory approval process and reduce the time and resources required for regulatory review.
Audit for Grant of CDSCO license on MD 5 for Class B and A Medical Devices.
Prior to the grant of a license to manufacture. An audit is conducted by the notified bodies or the CDSCO medical Device officers. Pharmadocx helps you in getting ready for audit by both the notified bodies and the state licensing authorities.
We help you in the preparation of documents and conduct a mock audit prior to the audit by the officials to ensure no major non-conformities are found during the final audit.
Contact Us
Pharmadocx can guide you through all the below services. Feel free to contact us in case any consultation is required for the below services.
Application on Form MD 3 for Grant of Manufacturing license for Class A and B products
Preparation of Quality Management System.
Preparation of Standard Operating Procedures and Formats
Implementation of a Quality Management System
Training on maintenance of records as per ISO 13485
Mock Audit Prior to Audit by Notified Bodies
Presence during an audit by the notified body
Preparation of Replies to queries raised on the portal.
Grant of License on form MD 5 for Manufacturing of Class A and B Medical Devices.
Visit our Store to purchase documents!
We'd love to hear from you! Whether you have questions about our pharmaceutical plant setup consultation services or want to discuss a potential project, our team is here to help. Simply fill out the form below, and we'll get back to you as soon as possible. Alternatively, you can reach out to us directly using the phone number or email address listed on this page. We look forward to connecting with you!
Address
Sonipat Office – Opposite Dewan Mill, Old D.C. Road Sonepat – 131001 Haryana, India

Delhi Office – G-12, Pearls Best Heights-I, Netaji Subhash Place, Delhi, 110034
Pharmadocx Consultants offers services across India!