Layout Designing for Pharmaceutical, Cosmetics and Medical Devices Factories HVAC, Autocad, Plumbing & Electrical

Introduction to Advanced Factory Design Solutions
In today's competitive manufacturing landscape, having a meticulously crafted and efficient factory layout is paramount. Pharmadocx Consultants, as a leading factory layout design consultant, blends traditional wisdom with modern design principles, ensuring that your production facility stands out in terms of efficiency, safety, and adaptability.
Core Principles of Effective Factory Layout Designing
Every successful factory layout hinges on a few foundational principles:
Flow Efficiency: A seamless flow reduces transportation time, minimizes chances of product damage, and enhances overall operational efficiency. We ensure a logical sequence in operations, thereby reducing any unnecessary movement.
Space Optimization: Effective space utilization can significantly boost productivity. Our designs ensure maximum utility from every square foot, leaving no space underutilized.
Safety Protocols: We prioritize the safety of the workforce by ensuring clear pathways, well-marked hazard zones, and ergonomic workstation designs.
Future Scalability: Our layouts are not just for today. They are flexible and scalable, designed keeping in mind future expansion and adaptability.
Comprehensive Factory Layout Design Services
Pharmadocx Consultants offer an extensive range of factory layout solutions:
Civil Autocad Drawings: Detailed structural designs that form the backbone of your facility.
Electric Drawings: Seamless and safe electrical layouts that prioritize energy efficiency.
Plumbing & HVAC Drawings: Advanced solutions for optimal temperature control and efficient plumbing, ensuring a comfortable work environment.
Machine GA Drawings: Strategic placement for machinery, facilitating smooth workflows, easy maintenance, and future scalability.
Epoxy & False Ceiling Drawings: Elevate the aesthetics and functionality of your workspace with top-notch finishing touches.
Why Choose Pharmadocx Consultants for Factory Layout Design?
Our team at Pharmadocx Consultants offers:
State-of-the-art Design Tools: Leveraging the latest factory layout design software ensures precision and adaptability.
Customized Design Solutions: We don't believe in a one-size-fits-all approach. Every project is unique, and we tailor our solutions accordingly.
Sustainability Focus: In an era of green manufacturing, our designs prioritize eco-friendly and energy-efficient solutions.
Experienced Professionals: With a dedicated team of seasoned experts, we bring a wealth of knowledge and expertise to every project.
Our In-depth Design Process
Initial Consultation: We invest time in understanding your goals, operational needs, and long-term vision.
Conceptual Designing: Our team drafts an initial layout, providing a blueprint of the potential design.
Iterative Feedback: Collaboration is key. We refine our designs based on your feedback, ensuring alignment with your objectives.
Finalization & Support: Beyond delivering the final design, we offer ongoing support for any future modifications or queries.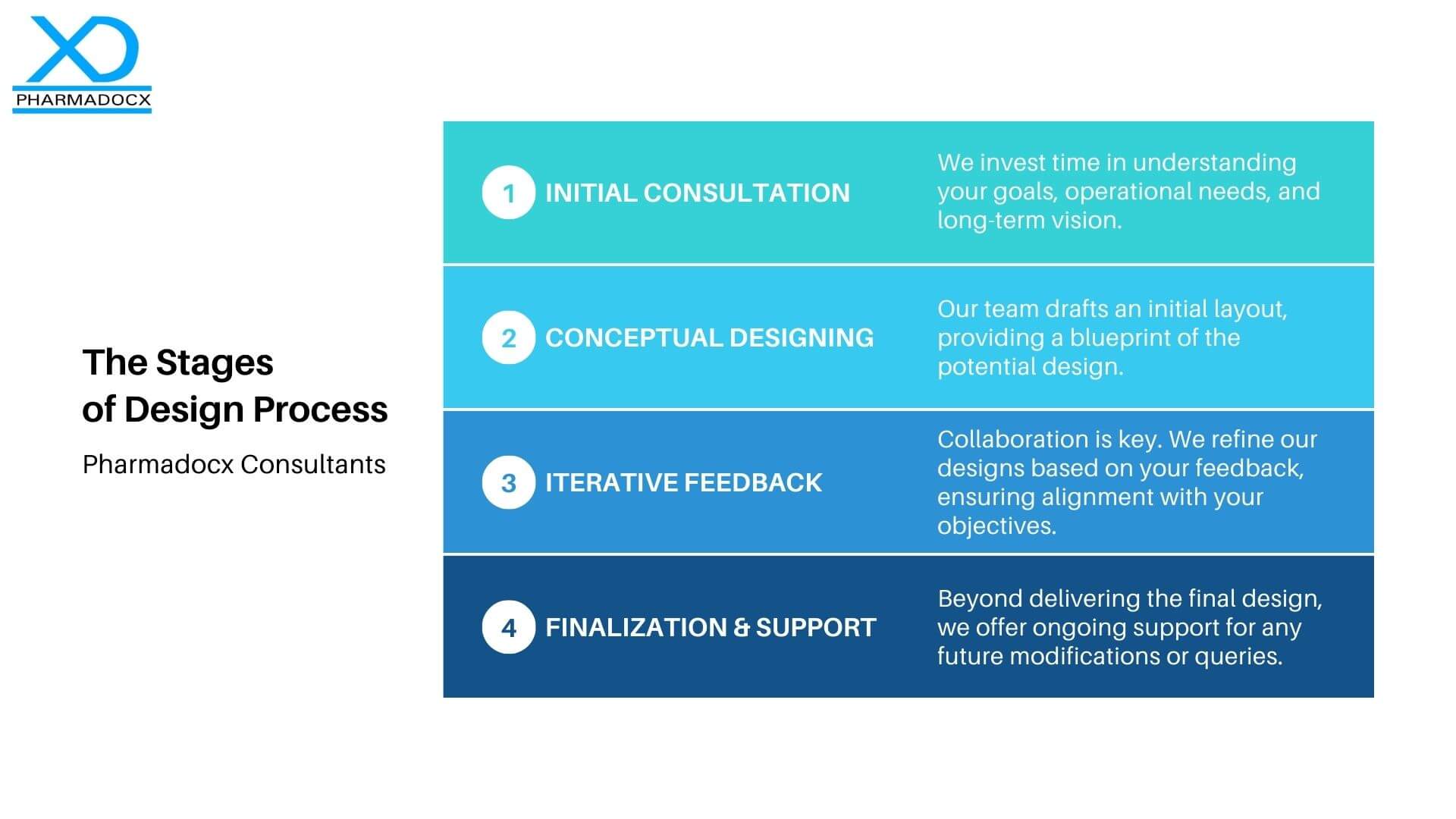 Client Testimonials
"With Pharmadocx Consultants, we transformed our factory's operational flow. Their expertise in factory layout optimization is unparalleled."
"The attention to detail and innovative solutions offered by Pharmadocx Consultants made a significant difference in our manufacturing efficiency."
Deep Dive: Components of Factory Layout Design
Civil Autocad Drawings:
These foundational blueprints are crucial for laying out the basic structure, ensuring stability and longevity.
Electric Drawings:
Beyond mere functionality, these designs incorporate energy-saving measures, ensuring a reduction in operational costs.
Plumbing & HVAC Drawings:
Modern factories need advanced solutions for comfort and functionality. Our designs balance both, ensuring a conducive work environment.
Machine GA Drawings:
Strategic machine placement can be the difference between a good and a great factory. We optimize for performance, maintenance, and future additions.
Epoxy & False Ceiling Drawings:
Aesthetics play a vital role in workforce morale. Our designs ensure your factory looks as good as it functions.
FAQs
How do Pharmadocx Consultants stay updated with industry trends?
Our team regularly attends industry conferences, undergoes training, and stays updated with the latest in factory layout design principles.
What industries have you catered to?
We have experience across a multitude of industries, ensuring a broad perspective and adaptable solutions.
How do you ensure eco-friendly designs?
Sustainability is at the core of our design philosophy. We incorporate energy-efficient measures, waste reduction, and eco-friendly materials wherever possible.
Conclusion
Pharmadocx Consultants is not just a factory layout design agency; we are your strategic partners in achieving manufacturing excellence. With a perfect blend of experience, innovation, and client-centricity, we promise a layout that's efficient, future-ready, and tailor-made for your needs. Reach out today and set the foundation for manufacturing success.
We'd love to hear from you! Whether you have questions about our pharmaceutical plant setup consultation services or want to discuss a potential project, our team is here to help. Simply fill out the form below, and we'll get back to you as soon as possible. Alternatively, you can reach out to us directly using the phone number or email address listed on this page. We look forward to connecting with you!
Address
Sonipat Office – Opposite Dewan Mill, Old D.C. Road Sonepat – 131001 Haryana, India

Delhi Office – G-12, Pearls Best Heights-I, Netaji Subhash Place, Delhi, 110034