ISO 9001 Certification India
Are you aiming for ISO 9001 certification to elevate your business processes? Pharmadocx Consultants is your go-to partner! Recognized as a leader in the ISO certification realm, we're committed to steering you to ISO 9001 success. Rely on our seasoned consultants to guide you through the certification landscape, ensuring you achieve and exceed international standards of excellence.
What is ISO 9001?
ISO 9001 is an international standard for quality management systems (QMS). It's designed to help organizations ensure that they meet the needs of customers and other stakeholders while meeting statutory and regulatory requirements related to a product or service. ISO 9001 is based on several quality management principles, including a strong customer focus, the involvement of high-level company management, a process approach, and continual improvement.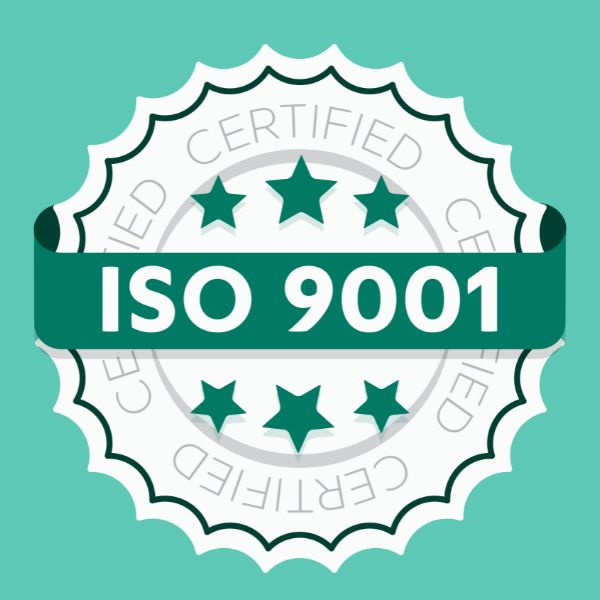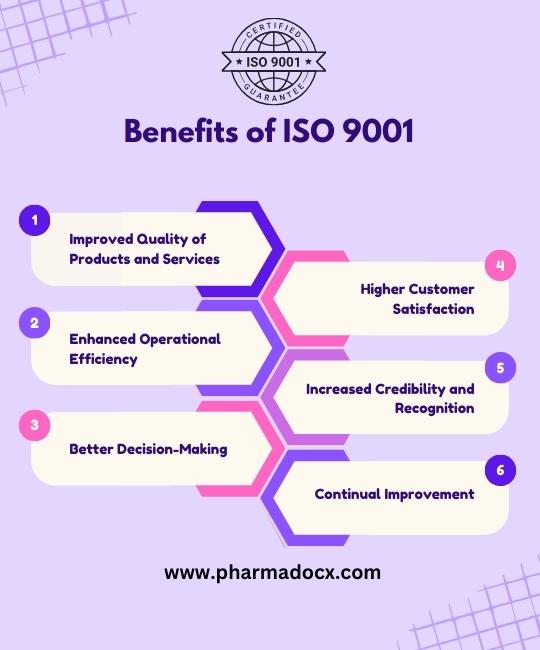 Benefits of ISO 9001:2015
Improved Quality of Products and Services: By adhering to ISO 9001 standards, organizations can consistently deliver products and services that meet customer expectations and regulatory requirements.
Higher Customer Satisfaction: A well-designed, ISO 9001-compliant quality management system helps you better understand customer needs, reduce errors, and enhance customer service.
Enhanced Operational Efficiency: ISO 9001 promotes the streamlining of internal processes through the adoption of a process approach, leading to reduced waste, errors, and increased productivity.
Increased Credibility and Recognition: ISO 9001 is a globally recognized standard, so achieving certification can enhance an organization's credibility and can be a requirement or a competitive advantage in certain markets.
Better Decision-Making: ISO 9001 encourages evidence-based decision-making, which can lead to more informed, strategic decisions that align with the organization's quality objectives.
Continual Improvement: The standard fosters a culture of continuous improvement within organizations. This leads to improvements in all aspects of the company, including the quality of products and services, efficiency, and responsiveness to market conditions.
ISO 9001 Clauses
The ISO 9001 standard is structured into ten clauses, with the first three being introductory and the last seven containing the requirements for the Quality Management System. They are:
Scope: Outlines the purpose and applicability of the standard.
Normative References: Provides a reference to the document that is indispensable for the application of the standard (usually ISO 9000).
Terms and Definitions: Details the terms and definitions applicable to the standard, as outlined in ISO 9000.
Context of the Organization: Covers understanding the organization and its context, as well as the needs and expectations of interested parties. It also includes the scope of the QMS and its processes.
Leadership: Focuses on top management's leadership and commitment, along with establishing a quality policy and organizational roles, responsibilities, and authorities.
Planning: Addresses the actions to address risks and opportunities, QMS objectives, and planning to achieve them.
Support: Details the resources needed for the QMS, including people, infrastructure, environment for the operation of processes, monitoring and measuring resources, knowledge, competence, awareness, communication, and documented information.
Operation: Deals with operational planning and control, requirements for products and services, design and development, control of externally provided processes, production and service provision, release of products and services, and control of nonconforming outputs.
Performance Evaluation: Includes monitoring, measurement, analysis, and evaluation, internal audit, and management review.
Improvement: Covers general requirements, nonconformity and corrective action, and continual improvement.
How to get ready for ISO 9001 Certification?
Getting ready for ISO 9001 certification involves a systematic approach to designing and implementing a Quality Management System (QMS) that meets the standard's requirements. Here's how you can prepare:
Understand the Standard: Read the ISO 9001 standard and get a clear understanding of its requirements. You may also consider getting training or working with a consultant.
Conduct a Gap Analysis: Compare your current processes with ISO 9001 requirements to identify areas that need improvement.
Develop a Plan: Create an action plan to address these gaps. Set realistic deadlines and assign responsibilities for implementing changes.
Train Your Team: Ensure that your employees understand the ISO 9001 requirements and the changes to your processes. Training is crucial for a successful implementation.
Implement the QMS: Update or develop new processes, procedures, and controls to meet the standard's requirements, and ensure they are put into practice across your organization.
Conduct Internal Audits: Perform internal audits to verify that your QMS is functioning effectively and to identify areas for further improvement before the certification audit.

How Pharmadocx Consultants can help you with ISO 9001 certification?
Since 2007, Pharmadocx Consultants has been helping businesses get ISO 9001 certified. Our team knows exactly what you need to meet ISO 9001 standards and we'll work with you to get your certification done right. We're known in India for our practical approach and expertise in ISO certifications. Let's work together to make your certification process smooth and help your business stand out worldwide.
Call/Whatsapp us at 9996859227 or write to us at [email protected] to get ISO 9001 certified today!
Comprehensive Gap Analysis
Our experts conduct thorough assessments to pinpoint your system's needs against ISO 9001 standards.
QMS Development
We tailor a Quality Management System to fit your unique business processes, ensuring ISO 9001 compliance.
Expert Guidance
Our seasoned professionals break down the ISO 9001 requirements, ensuring you understand every detail.
Training and Workshops
We provide engaging training sessions to prepare your team for the ISO 9001 processes and audits.
Successful Grant of ISO 9001
We help you with the certification process and make sure you get an ISO 9001 certification from an accredited certification body.
Ongoing Support and Improvement
Beyond certification, we offer continuous support to maintain and improve your QMS in line with ISO 9001 requirements.
We'd love to hear from you! Whether you have questions about our pharmaceutical plant setup consultation services or want to discuss a potential project, our team is here to help. Simply fill out the form below, and we'll get back to you as soon as possible. Alternatively, you can reach out to us directly using the phone number or email address listed on this page. We look forward to connecting with you!
Address
Sonipat Office - Opposite Dewan Mill, Old D.C. Road Sonepat - 131001 Haryana, India

Delhi Office - G-12, Pearls Best Heights-I, Netaji Subhash Place, Delhi, 110034
Frequently Asked Questions (FAQs)
What is ISO 9001?
ISO 9001 is the international standard that specifies criteria for a quality management system (QMS). It is used by organizations to demonstrate their ability to consistently provide products and services that meet customer and regulatory requirements and to enhance customer satisfaction.
What is the last step in ISO 9001 registration?
The final step in ISO 9001 registration is the certification audit by an external auditor from a certification body. This includes a review of the QMS documentation, records, and practices to ensure compliance with the standard. If compliant, the organization will then be issued an ISO 9001 certification.
How many clauses are in ISO 9001?
The ISO 9001 standard is composed of ten clauses. Clauses 4 through 10 contain the requirements for the Quality Management System, which organizations must fulfill to achieve ISO 9001 certification.
How to get ISO 9001 certification in India?
To get ISO 9001 certification in India, you must implement a QMS that complies with the ISO 9001 standards, conduct internal audits, correct any non-conformities, and then have your QMS audited by a certified body. If your system meets the requirements, the certification body will issue an ISO 9001 certificate. Pharmadocx Consultants can help you get ISO 9001 Certificate. Call/Whatsapp us at 9996859227 or write to us at [email protected] to get your license today! 
According to ISO 9001, inspection and testing come under which management responsibility?
According to ISO 9001, inspection and testing are part of the operation process, specifically under the 'Product Realization' process. Management is responsible for ensuring that the required inspection and testing are carried out and that records are maintained to evidence conformity to specified requirements.