WHO GMP Certification Services
What is WHO GMP?
WHO GMP Compliance refers to the essential standards set by the World Health Organization (WHO) that pharmaceutical factories must follow to ensure their products are safe, effective, and of high quality. These rules, known as Good Manufacturing Practices (GMP), dictate how medicines should be produced, inspected, and handled, focusing on cleanliness, organization, and thorough quality checks.
At Pharmadocx Consultants, we're committed to guiding factories through the intricate path of achieving WHO GMP Compliance. Our expertise simplifies this complex process, ensuring that every aspect of production meets these critical international standards. With us, pharmaceutical factories don't just achieve compliance; they master it, building a reputation for excellence in the competitive global marketplace.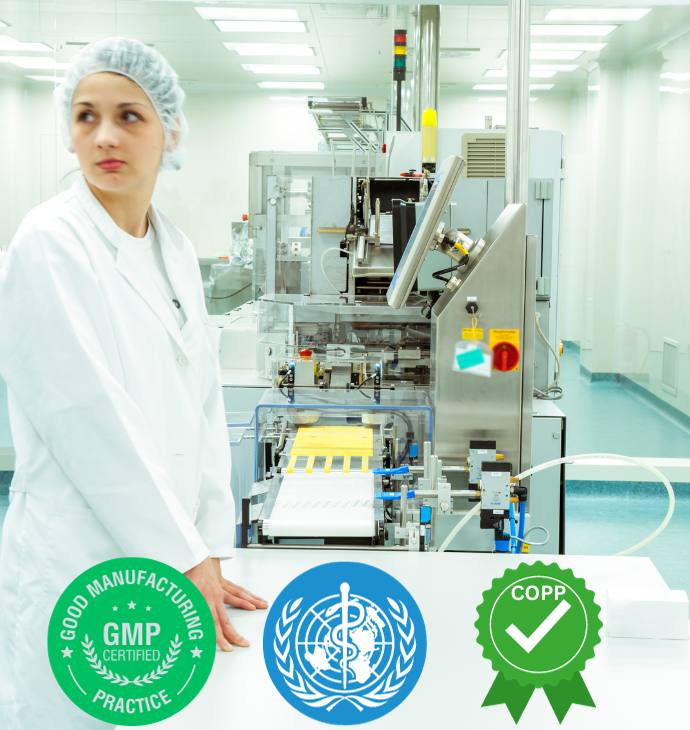 Government Deadline: The government has set a deadline for mandatory revised Schedule M implementation of the Good Manufacturing Practices (GMP).
Companies with a turnover of over Rs 250 crore will have to implement the revised GMP within six months (by Feb, 2024)

Companies with turnover of less than Rs 250 crore will have to implement it within a year (by August 2024)
Our Services for WHO GMP Compliance in Pharma Factories
Site Audit
We start with a thorough check-up of your entire facility. Our team looks at every nook and cranny to understand what's working well and what's not. We examine your facility, identifying areas that require enhancement to meet the WHO's stringent standards, ensuring no stone is left unturned in the pursuit of quality excellence
Strategic Plant Modifications
Achieving compliance often means refining existing infrastructures. We provide precise, strategic guidance on necessary modifications within your plant. Our recommendations focus on optimizing your facility's layout, equipment, and operational workflows, bridging the gap between current practices and WHO GMP requirements.
Documentation
Documentation is the backbone of GMP adherence. We assist in preparing and organizing all necessary Standard Operating Procedures (SOPs), formats, and procedural documents required for WHO GMP Certification. Our tailored documentation strategies are designed to fortify your quality management system, aligning it with international benchmarks
Staff Training
Human error can jeopardize compliance. We remove this risk by providing thorough training for your staff, and ingraining WHO GMP practices into your company culture. Our sessions provide teams with the knowledge and skills necessary to uphold the highest standards, ensuring your products consistently meet quality and safety criteria.
Filing for WHO GMP Certification
Filling out the WHO GMP application is serious business. We streamline this process, handling the intricate filing requirements and application procedures on your behalf. We stand by you in this step, ensuring every piece of information is accurate. Our guidance makes this complex task much simpler.
Expert Liaisoning
Dealing with the authorities doesn't have to be a hassle. We act as a bridge between you and the regulatory bodies, smoothing out the communication. We help interpret regulatory feedback, assist in preparing responses, and advocate on your behalf, making sure you dont need to deal with the authorities.
Ensuring a Successful Audit
The audit phase is a critical step in your compliance journey. We equip you with strategies to navigate this process confidently, from pre-audit preparation to post-audit follow-ups. By conducting mock audits and providing corrective action guidance, we ensure your facility is fully ready.
Grant of WHO GMP Certificate
Securing the WHO GMP certification marks a milestone in your quality journey. Our support extends up to this point, providing guidance on last-minute checks, compliance reviews, and final documentation. With Pharmadocx Consultants, your journey toward operational excellence and global recognition is secure.
The "5 Ps" of Good Manufacturing Practices (GMP)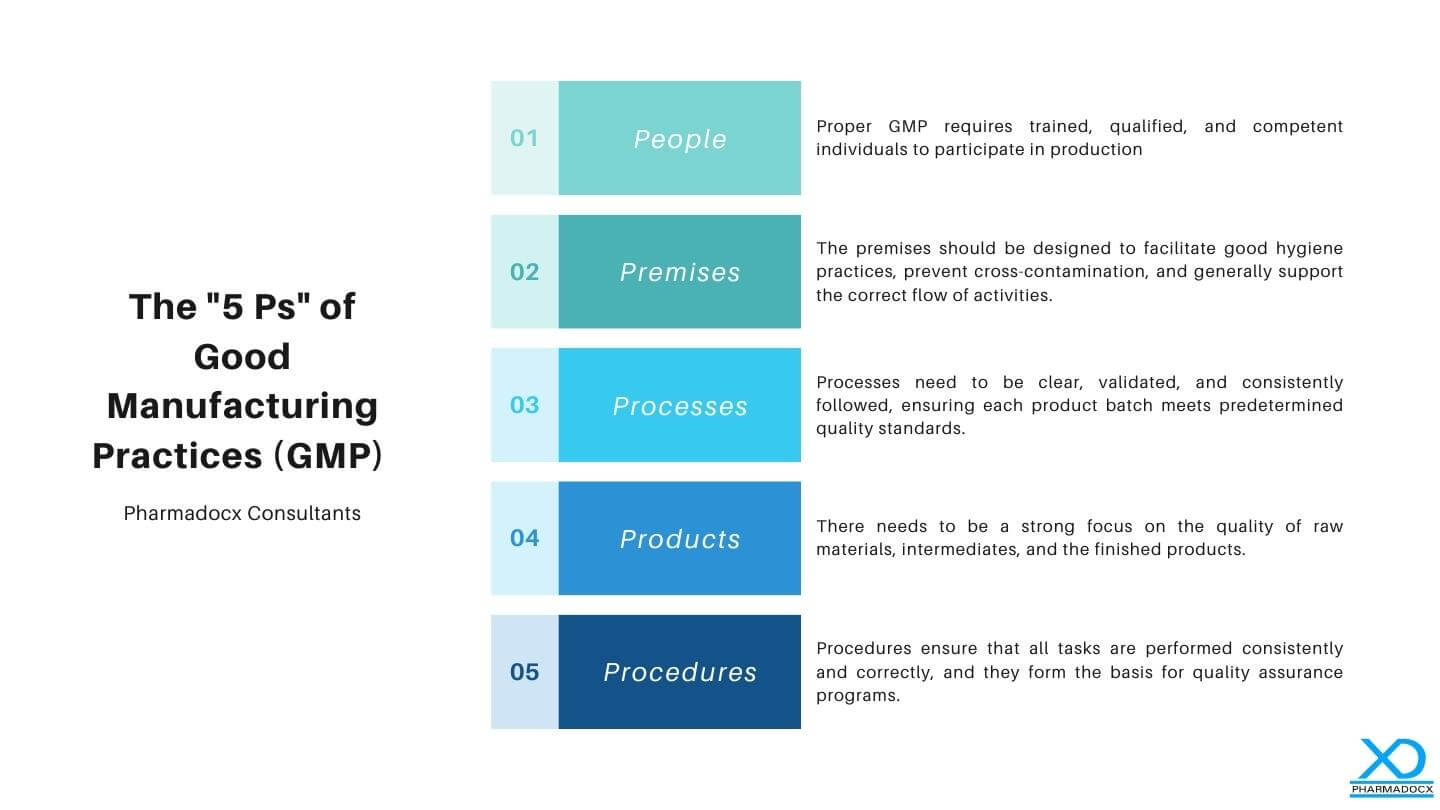 The "5 Ps" of Good Manufacturing Practices (GMP) refer to the critical areas that are considered foundational for the compliance and efficiency of manufacturing operations, especially in the pharmaceutical industry. These are designed to ensure that products are consistently produced and controlled according to quality standards. Here they are, simplified:
People: The first P refers to the personnel involved in the manufacturing process. Proper GMP requires trained, qualified, and competent individuals to participate in production. This ensures that everyone understands and follows quality procedures and can perform tasks correctly, reducing the risk of contamination or production errors.
Premises: This refers to the physical location where production activities occur. The premises should be designed to facilitate good hygiene practices, prevent cross-contamination, and generally support the correct flow of activities. This includes considerations for cleanliness, maintenance, space, and environmental factors (like temperature and humidity controls).
Processes: These are the specific methods and procedures involved in the manufacture of pharmaceutical products. Processes need to be clear, validated, and consistently followed, ensuring each product batch meets predetermined quality standards. This also includes documentation, change controls, and quality checks.
Products: This refers to the materials used and the products produced. There needs to be a strong focus on the quality of raw materials, intermediates, and finished products. This encompasses everything from initial specifications to the examination of the final products, ensuring they are fit for consumer use.
Procedures: These are the documented methods for all activities and operations, including storage, production, quality control, and distribution. Procedures ensure that all tasks are performed consistently and correctly, and they form the basis for quality assurance programs.
Contact us today to get your factory WHO GMP Compliant & Certified!
We'd love to hear from you! Whether you have questions about our pharmaceutical plant setup consultation services or want to discuss a potential project, our team is here to help. Simply fill out the form below, and we'll get back to you as soon as possible. Alternatively, you can reach out to us directly using the phone number or email address listed on this page. We look forward to connecting with you!
Address
Sonipat Office - Opposite Dewan Mill, Old D.C. Road Sonepat - 131001 Haryana, India

Delhi Office - G-12, Pearls Best Heights-I, Netaji Subhash Place, Delhi, 110034
Frequently Asked Questions (FAQs)
What is WHO GMP?
WHO GMP refers to the adherence to the Good Manufacturing Practices (GMP) outlined by the World Health Organization, ensuring pharmaceutical products are consistently produced and controlled to the quality standards appropriate for their intended use.
What are the key components of WHO GMP Compliance?
Key components include stringent guidelines on quality management systems, personnel qualifications, hygiene standards, equipment and facility suitability, documentation, production controls, and product quality assurance.
What is cGMP?
cGMP stands for "Current Good Manufacturing Practice," and it represents the main regulatory standard for ensuring pharmaceutical product quality. Unlike Good Manufacturing Practice (GMP), which outlines the guidelines for manufacturing, testing, and quality assurance of drugs, cGMP denotes the current standards that must be followed to meet these established quality guidelines.
What is GMP?
Good Manufacturing Practice (GMP) is a system for ensuring that products are consistently produced and controlled according to quality standards. It is designed to minimize the risks involved in any pharmaceutical production that cannot be eliminated through testing the final product. GMP covers all aspects of production from the starting materials, premises, and equipment to the training and personal hygiene of staff.
What is difference between cGMP and GMP?
GMP, or Good Manufacturing Practices, provides guidelines for manufacturing, testing, and quality assurance to ensure that drug products are safe and pure. cGMP, or Current Good Manufacturing Practices, emphasizes the need for procedures and systems that are up-to-date and reflect the latest advances in technology and science. The "c" in cGMP signifies that these practices are continually evolving, keeping pace with the advancements in methods, equipment, and processes to maintain product safety and quality. While GMP sets the standards, cGMP is about maintaining them in real-time, ensuring pharmaceutical products are consistently produced according to the highest standards.
What are the principles of Good Manufacturing Practices (GMP)?
The main principles of GMP are:
Develop detailed Standard Operating Procedures (SOPs)

Adherence to Established Protocols

Thorough Documentation Practices
Routine Surveillance of Infrastructure and Apparatus
Hiring Skilled and Knowledgeable Staff
Safeguarding Against Product Contamination
Regulation of Product-Related Elements and Procedures
Upholding Quality Across All Sectors (

including operations, manufacturing, logistics, and distribution channels)

Conducting Regular Standardized Reviews